Category Archives:
Blog
Just a quick note to test out our new blog page and to start the ball rolling.  Over the next few months it is hoped that our members will submit some blogs as to what we are getting on with or about to do.   Events, notes, photos, quick messages and any relevant information of interest to our users or visitors will be posted and any comments invited, these will be moderated to remove any spam or other undesireable posts!   So as they say,   watch this space……
15 March 2013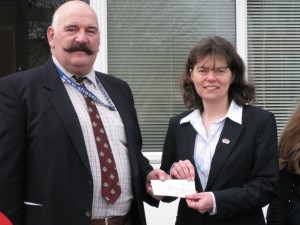 Major Gary Wallace took a trip to Edinburgh to present a cheque for £2,813.20 to Poppy Scotland at their Edinburgh HQ and Poppy Factory.
Major Wallace's fund raising group, 'The Western Desert Recce Group', raised the donation by selling poppies outside the ASDA supermarket in Dunfermline, over 2 cold days in November.
The Scottish Poppy Appeal raises around £2 million each year and, combined with other year-round fundraising, allows them to provide financial assistance to thousands of ex-Servicemen and women, as well as helping to fund specialist services such as long term care, housing and employment